July 13th, 2010
Heeeey
Long time no see! We actually have a lot of stuff to tell, such as we are now working with anosou for music in Project B and that there's more info about the game online now, but these news will have to wait just a little bit longer

We just came back from No More Sweden 2010 in Skövde. We had a great time and met a lot of really cool indie developers. During the event we also created a 48-hour game called The Dubai Grand Prix Scandal.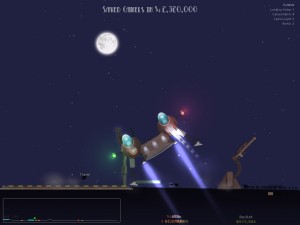 It's a game intended for two people using two game pads, but we've added keyboard support as well (using ESDF and IJKL for main controls, check the readme for the other keys).
Download Windows version here (and please read the readme file!)
This game has also been made in our DaisyMoon prototyping engine. Feel free to hack around in the Lua source code!
/jeb