April 24th, 2012,
Harvest
,
News
,
Updates & Patches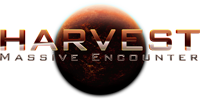 Hey!
It's over 1.5 years since we wrote about the 1.17 update to Harvest, and finally we're able to release an updated version. It won't be 1.17, but 1.18 (fixing a couple of more things), and this time also with builds for Linux!
The game changes are:
Invert scroll direction setting
Added drag-and-place buildings, if you keep the mouse pressed the game will place the next building at the edge of the energy range from the previous one
Made it possible to select and sell multiple buildings at once, also added "getSelectedBuildings" Lua hook
Added an option for the defenses to hold fire
Shaded map edge
Map expansion marker line
Double-size minimap for resolutions larger than 800×600
Changed damage calculation of missile turrets
Removed the age limit of solar plants
Removed the boss aliens
Energy links will attempt to avoid sending energy to links that are pointing towards itself
Made it possible to change language setting in the settings menu
Changed so that Poseidon and Ares are unlocked by gaining award points
And we've also changed a bunch of stuff in the engine:
Replaced the standard Lua intepreter with LuaJIT2
Replaced BASS with OpenAL for sound effects
Made profiles and save games "Program Files safe" (see more below)
Buy Harvest! It's only $9.99, or $4.99 with discount code
If you don't own Harvest: Massive Encounter, you should head over here and find the appropriate buy link:
http://www.oxeyegames.com/harvest/buy-now
Also, get an 50 % discount by entering the discount code "TOMMASO" when you buy the game! This code is to celebrate that the update was made possible by the nice Italian Tommaso Checchi (follow him on twitter at @_tomcc), and is valid until April 29th.
Try Harvest?
We also have a demo version if you want to try out the game before buying. We recommend you start playing the "wave mode" first

You find the demo download links here:
http://www.oxeyegames.com/harvest/download-now
Already own Harvest?
If you already have a copy of Harvest: Massive Encounter, you can use your serial key to download the game here:
http://www.oxeyegames.com/harvest/update/getHarvestUpdate.php
Important! If you already have Harvest installed on Windows, you may notice that your profiles and save games are missing when you start the new version. This is because version 1.18 is "program files safe", and will store your personal settings in "C:\Users\<your user>\AppData\Local\Harvest" instead of in the installation folder. To restore your save files, start the games once and then move your files manually from your installation folder to the documents folder.
Want Harvest on Steam?
As we mentioned in our previous blog post, Harvest: Massive Encounter is also available on Steam! The Harvest Steam store page is here:
http://store.steampowered.com/app/15400/
The Steam version was updated to 1.18 a few days ago.
Need Help?
This update contains a lot of changes, and if you encounter a problem we haven't heard of before, you may need to contact somebody.
If it's related to Mac OS X or Linux compatibility problems, try sending @_tomcc a tweet.
If it's related to purchasing or Windows problems, please send an email to:
If you just want someone to talk to, try our reddit community at:
http://reddit.com/r/OxeyeGames
Final Words
We would like to write a big THANK YOU to all who have bought and played our game! It means a lot to us!