November 19th, 2008,
RTS Design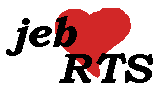 This is the second part of my RTS game-play article series, and we're finally getting on with the more beefy stuff. This time I will discuss the subject of RTS games' resource systems. The order of these blog posts may seem a little bit random… which is completely true! However, resource systems are quite independent from other game concepts, which makes it an easy place to begin. When I feel finished with all parts, I will post the whole document in a more organized manner. Until then, try to keep up with my floating idea blobs!

Resource Systems
Much of today's resource systems can be tracked back to the games of the 90s. The basics of a resource system are resource collection and production. In Dune 2 (Westwood Studios, 1992) you have a single resource called melange (or simply "spice"), which is gathered from sand dunes and sold at refineries for credits. Credits are then used to buy both units and structures. Collecting spice is performed by slow-moving "harvesters." The amount of credits you can have at the same time is limited, but can be increased by adding spice silos to your base. Dune 2's resource system is also used in Westwood's following game, Command & Conquer: Tiberian Dawn. The spice is replaced by tiberium, but the concept is the same.
Since then games have tried different number of resource types, different rate of expenses, and various forms of gathering them. Some of these variations will be covered here.
Continuous vs Discrete

One thing that is important is that the expense of resources in Dune 2 and Command & Conquer is that it's continuous. What that means is that when buying structures or units, the credits count is continuously decreased until the purchase is completed. This has the effect that you can begin constructing something even though you don't have enough credits, but it's possible that you will have to wait for the next harvester to return before you get what you bought. In theory, especially in Command & Conquer 3: Tiberium Wars (EA Los Angeles, 2007) with its multiple build queues and upgrade options, you may end up buying several items of which none will be completed. It's the player's job to predict how much income that is arriving, and prioritize by holding or canceling production.

Total Annihilation (Cavedog Entertainment, 1997) and Supreme Commander (Gas Powered Games, 2007) use a full continuous resource system. Resources gathering is measured in "per second", and so is resource expenses. If you have more income than expenses, the excess will be added to your stash, which is limited. The limit can be increased by adding silos and batteries, but generally it's optimal to keep your resource stash close to zero at all time, and with a slightly negative income/expense ratio.

Blizzard Entertainment has used a discrete resource system in all their games. A discrete system is a system where resources are removed instantly, and it's not possible to buy something that you can't afford. This system is used in a lot of other games as well, such as Age of Empires (Ensemble Studios, 1997) and the spin-off series Empire Earth (Stainless Steel Studios, 2001).
The big difference between continuous and discrete systems is the implicit cost of time. With a continous system the player is allowed to save time by constructing something he can't afford yet. For example, if the resources for a certain unit is gathered at twice the rate of the unit's production time (and the player has two factories), the difference is the following:
The player wants to buy 2 units. In the continous system the player begins construction of both units. In the discrete system the player is only able to begin construction of one of them.
The player receives resources for the second unit. In the continous system, both units are at 50%, in the discrete system the player may begin construction of the second unit.
Full construction time. In the continous system the player receives both units. In the discrete system the player receives the first unit, while the other is still at 50%.
In the long run both systems will yield the same amount of units, since they are both restricted by the rate of income. However, it does affect the player's decision making. In a continuous system, if you need something you should begin constructing it immediately to save time. In discrete systems you are forced to prioritize more, and is also more intuitive since it's how you pay for things in real life. Discrete systems also give the player direct feedback on the economy; the player will receive the "you need more resources" error message when he tries to build something, instead of receiving it a couple of moments later. C&C 3 helps the player by displaying a purchase's cost with red digits if it's higher than the current stash of credits.
Active vs Passive

As already mentioned, in Dune 2 and C&C resource collection is handled by harvesters that move between resource fields and refineries. This is "active resource collection," because a game entity is involved in the process. This entity can be micro'ed by the player if necessary, but generally it takes care of itself as long as there are resources remaining to collect. Warcraft, Starcraft and Age of Empires are other examples of games that use active resource collection.

In passive resource collection, resources are added through other means than entities picking them up. Passive income is also usually infinite or near-infinite and will continue until the opponent destroys it. Passive income is used in Total Annihilation, Dawn of War (Relic Entertainment, 2004) and in some extent Command & Conquer 3 (tiberium spikes) and Warcraft 3 (Night Elves collecting wood, Blizzard Entertainment, 2002).

In both systems the player will have to practice to understand how quickly resources are gathered, how many harvesters that are needed or how many passive resource points that is required for a certain technology build. Since passive income usually is connected to positions on the map, such resource systems will put more pressure on the players to be offensive and multi-tasking, forcing them to attempt to gain control of locations that may be difficult to defend. Most people will find RTS games with passive income to be "hectic" on a macromanagement level, because you need to get as many passive positions as possible, and when there are no more spaces you need to take your opponent's positions instead. The game will consist of several small battles until either player gets the upper hand and can make a move on the main base.

Active income is more focusing on defending a handful of locations. As long as there are resources remaining to collect the player is allowed to sit tight and make plans for the next move. Active income is also limited by the number of harvesters, and not by the number of resource locations available, which gives the player a more comfortable situation of choosing their own economy. Obviously there is a need for expanding to new locations and preventing your opponent from doing the same. However, this is a decision that the player makes, and is not forced upon him by the way the resource system is made.
Resource Types

Most RTS games have several resource types. For example, Starcraft has minerals and vespene gas, and Age of Empires has four (food, wood, rock and gold). Resource types are used to balance units in the game, and offer the players methods of choosing different strategies. Resource types can be available in different amounts (vespene gas is collected slower than minerals), have relations to each other (wood creates food in late-game Age of Empires) or be gathered differently (requisition and power in Dawn of War).

The difference between having one and having several resource types is not how you gather them, but the option not to gather. Games that don't utilize this option are less enjoyable and force players to do more "work". To get a good example of this, check the Analyzing Supreme Commander section below. Not gathering allows players to focus on certain strategies and hopefully get an advantage over an opponent who wants it all. For instance, the stone resource in Age of Empires is mainly used for defensive structures. If you aren't interested in defense, you can use those workers on gathering more gold instead (which allows for more technology and offensive units).

While adding more resource types to a game adds strategy options, it also adds confusion. Empire Earth 2 has ten resource types! Food, wood, stone, gold, tin, iron, salpeter, oil, uranium and technology points. Luckily, not all of these resources are available at the same time, but it's still way too many. Mad Doc Software added these for historical accuracy, but it neither adds strategy nor entertainment.

There are no games that I know of which only has one resource and a discrete payment system, so it's hard to analyze how that would play. Command & Conquer has a single resource type, but since the payment system is continous it wouldn't make much of a difference if there were two. You would still buy what you wanted, rather than what you could afford.

Other Resource Systems

It's not easy to invent fresh resource systems on-the-fly, but there is obviously room for other ideas than those used so far. In many cases, resources are about gathering something so that a number in the user interface is increased (the stash). It's easier to invent new ways of gathering than new ways of increasing the number.

One way to make it more different is to avoid using a stash value. One example of this is our game Harvest: Massive Encounter (Oxeye Game Studio, 2008), where one of the resources is energy flying around in a network of energy links. The energy is a part of the game rather than a part of the user interface, and the player will have to make sure that the energy is at the right place and not just that there is enough of it. However, as you know, Harvest: Massive Encounter is a different kind of RTS than the other games in this article, but it's a good example of how resource systems can be made differently.