February 25th, 2008,
Whispers in Akarra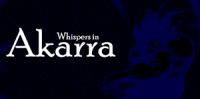 The forums at the Whispers in Akarra hub site are now available. If you are having problems with the game's source code, or maybe the game itself, you can ask for help there.
Speaking of the source code… If you add new features, bug fixes or simply tweak the source, please let me know! I'd love to see what happens with the project. So far I've only heard that the source is "clean", which sounds good, and the expected "how do I compile?" questions. I hope you will be able to create some cool stuff with the server.
/jeb