March 5th, 2010,
Cobalt
,
Gifts
,
Harvest
,
Indie Life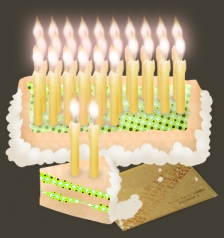 I usually try to avoid posting more than once per day, but I nearly forgot which date it was today… it's the 5h of March! That means we have two birthdays to celebrate!
First up is Pontus Hammarberg, our own very cuddlesome artist who is trying to save mankind, one life at a time

He has turned 26 today. Give him a cheer!

(And in case you were wondering, Pontus goes by the internet alias "Kinten", you may have seen him around.)
Second up is Harvest: Massive Encounter that is 2 years old today! It's crazy how long time that has passed since its release, and how different things are now compared to back then.
To celebrate this we are going to give you a present! We are going to send out postcards (real, physical postcards) to anybody who wants one. All you need to do is to give us your home address (we'll not use it for anything else, don't worry), and maybe suggest a name for Project B! Anything goes, but obviously we prefer actual usable game names over "Cheesemaster of Death 2000″

The best name will receive an extra present… I think.
In any case, suggesting a name is optional, so to receive a postcard all you have to do is to go here:
–> http://www.oxeyegames.com/addresses/ <–
We'll gather addresses for about 2 weeks. I'll post again later. (We may not send a postcard to everybody in case this becomes unexpectedly popular, since I have to write all of these by hand… so if that happens it will be first come first served.)
/jeb
UPDATE: Remember to write your NAME with the address! Our divine senses can only stretch so far…