January 17th, 2013,
Cobalt
,
Updates & Patches
v116 Alpha contains some new things which cannot be updated from the auto-updater. To get this version you must use the installer from http://assets.playcobalt.com/CobaltInstaller.exe
Hi everyone! Today we released the v116 alpha update for Cobalt.
This contains a big list of changes and bug fixes. Among the bigger things, we have added a new game mode:  Challenge! For it we have added 18 new maps of varying size and difficulty. We have also added a new survival map, and updated some of the ctp and vs maps. Burntcustard also supplied us with a revamped version of the jet fuel dungeon!
For a long time we have been feeling that Cobalt has been lacking good transitional singleplayer gameplay component after tutorial. DM & CTP are more aimed towards playing with friends, and while Survival is fun for the hardcore player, it doesn't offer a sense of completion nor any significant feeling of progress. This is where challenge mode now comes in. It offers maps in a wide range of difficulty where you can actually complete a map, as well as offering a wider range challenges and goals than just surviving. For us this is a very important component in making Cobalt a more complete game, and once we get the adventure component ready too, we feel that we will have a much more satisfactory sense of progress offered.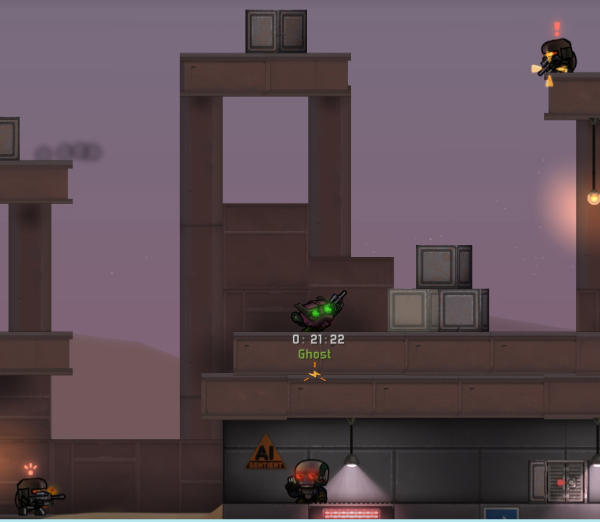 Hit the jump for the full change log!
Change Log
Alterations:
Ninjas have had their weapon arm switched, also ninjas can now be equipped with backshell and energy shield. This is part of the process of letting more actors use the generic equipment system.
Added initialDelay to pickups
Increased rail scout bullet speed
New Actor: Felishroom
Now possible to assign tints to actors spawns.
New Challenge game mode.
Highscores for survival and challenge.
Added 4 Challenge Sets totaling 18 new maps
Added 1 new Survival map: Desert Wind
Map list fades to show that it continues.
Auto aim now considers tile targets even if there are other targets too.
Railgun prices adjusted downwards.
Snow, ice and icicles!
Added a bunch more tiles to the map editor!
Changed the way activated physics are handled in the map editor. Now you can activate and simulate physics while in the editor, and then pause them. And all the things that were previously "magically" activated, are now just activated by default.
You can now attach physical tiles to each other in a hierarchy creating composited activated physical tiles.
You can now make tiles destructible from the right click menu of tiles, and then set their health.
Plasma striker increased max ammo
Plasma pistol increased max ammo
Plasma guns have generally had their speeds and ranges tweaked.
change plasma to dissipate charge less first, and more later.
Reduced handling sway penalty for all rail weapons
Increased rate of fire for rail defender and revolver
Increased reload speed for rail cannon and rail prototype and burst and screamer and revolver
Increased effect of burst and screamed extended magazine
Increased the effects of the motor for rail revolver and defender and vanquisher
Reduced price for rail burster and screamer and revolver and defender
Matter gun now costs 325
3 new matter weapons added: Matter Bolt, Matter War and Matter Machine
Matter cannon support is more powerful, lessens recoils and increases rate of fire
Matter shots are now able to first destroy a protection piece and then continue to hurt the target if enough remaining damage is left in the shot.
Plasma cannon and striker now shoot multiple projectiles in an arc.
Added a combo system that gives time bonuses in challenge and volt bonuses in survival
Ai actors now have a small ai-feedback icon which designates the general state of the ai.
It is now much easier to push physical stuff.
Pushing or shoting a physical box, and it destroying an enemy will give you a kill
Landing hard on another enemy or a destructible tile will do damage!
Jump kick now works better on the way down when hitting a surface
Opengl is now default, Uncheck the checkbox in options to use directx!
Added a value to summoners called noOffspringSpeedBoost which makes the summoner start the next wave faster if all of its offspring are dead. This multiplier is 1 for birds nests and shroom summoners, but 10 for the booth summoner and 2 for the factory.
Opening doors now makes sound that can give you away.
Sneaking while opening a door will cause you to open it slowly making less sound
You can now configure where cobalt saves its user data: make a "paths" file into AppData/Roaming/Cobalt and write: $DOCUMENTS$ "your/documents/path" into it
Bug-Fixes:
Shield belt discharge now only affects enemies
Fixed actors being killable by heat and cold while being "invulnerable"
Reworked tile destruction code which seems to have removed a horrible stutter that was present before.
Plug was dropped when switching to more powerful weapons on pickup.
Lots of small fixes and tweaks to the editor
Plugs would sometimes disappear visually, when bouncing or periodically in the station
Trails would sometimes disappear in whole incorrectly.
Fixed music not playing correctly sometimes on restart of maps
Optimizations both in engine and game code
Likely a bunch of that we forgot to add to this list!