May 10th, 2013,
Game Development
,
Map Editor
,
thewreck
Hi again! The last update was some time ago now, too long in fact! This is not a post to announce a new update, but to give some insight into what is going on.
Hit the jump for the full read.
After the last update we got a bunch of bug reports, and they are still coming in. The most troubling ones were related to random crashes and other equally bad stuff. We have gone through a series of fixes now on our side, but one of the bugs took longer than expected and have held us back from having a stable executable for a while. We have also received some feedback that a weekly or bi-weekly update tempo would be great, and we can only agree. We enjoy development in that tempo and we should be getting back to that after the coming update.
In the meantime we have been building the Adventure component of the game. This includes work on the editors as well as the content of it and the implementation of running it.
An example shop setup in the adventure editor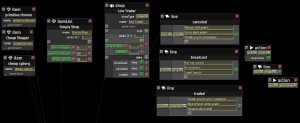 We are looking forward to see what people will be able to do with these editors!
As of this week things seem to be on track again and we are basically in release preparation mode trying to make sure that all the things that we have worked on since the last update gets packaged and presented in the best way possible. I'm currently sitting on a train, the weekend will largely be occupied by a wedding, and next week the Mojangstas and Kinten are away and I'm in Denmark. So as of right now, we cannot say a date, but I will be working today and the next week to make this happen as soon as possible.
Also, here is a flying brain: