December 25th, 2014,
Cobalt
,
writing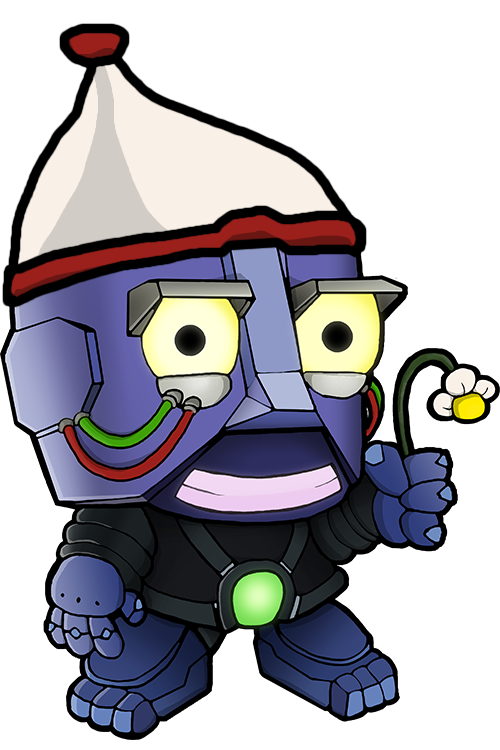 Hey there, folks! Librus here, the Cobalt community's resident writer and part-time artist! You may also recognize me from a few Sand In The Gears episodes. For those who know me, yes, it's about time I get to share my talent with the wonderful chaps at Oxeye. You've probably seen my works on the Cobalt Forums, and if not, you should check it out! Wonderful people there. Love it if you could join us!
Now, for today's little special, I have a Cobalt-Related holiday tale. It's an old one, back when I was… a grumpier fellow, I'll just say. I'll leave it to your crafty imaginations to see where the inspiration from this comes! So gather around, and grab a mug of hot cocoa! Or whatever takes your fancy, rather. Are Metalfaces even capable of drinking, come to think of it…? No matter!
Hit the jump to read!
How Librus Nearly Ruined Cobalt for Everyone-

Every Metalface in Cobalt liked Cobalt! A lot!
But Librus, however, he did not.
He hated the game! The rolling, the smiles!
He wanted to wipe out the community for miles!

For every Deathmatch, he was pummeled! Then crushed!
For every good weapon, the other guys rushed.
The other gamemodes? Fah! They were no different.
No matter the team, he lost to each pigment!

Oh, all the teams, Red, Green, Yellow and Blue...
The others were all so OP! That much was true!
But how could the Metalface get so tight-fisted?
Was his concept of fun just thoroughly twisted?

Maybe his head wasn't assembled just right!
Or perhaps his brain casing was just a little too tight.
But the community, so say them all...
That his little metal heart... it was a few sizes too small.

Now, we tune in on Librus in his cold, metal lair...
(Where he stared down at the CTP field with a cold, metal stare...)
"Soon will be a game, and we know what that means...
Pow! Roll! Ping! Pang! Oh, stop the noise, please!"

"They'll deflect their bullets, shooting and more...
Playing those games that they all so adore.
And I'll be stuck here, bad as can be.
OOOOHHH, those hunks of metal, they're all so OP!"

And Librus paced, this way and that.
(If he was still human, he probably spat.)
And he wonder and wondered, with his mind that is best...
How could, tonight, he just get some rest?

But then! He had an idea.
A horrible idea.
A terrible idea.
A game-ending idea! (Oh no, right?!)

"I know just what to do!" the old bot' laughed to himself,
Grabbing his jetbike keys from his old shelf,
And into the battlefields, Librus did speed...
To steal all their items! What a wretched, dark deed!

He climbed atop what seemed some Trunkopolis heights,
The city, half-asleep with it's flickering lights.
And slowly, but surely, Librus worked his way through...
And nicked everything there! What a rude thing to do!

From map to map, Librus flew by,
His sack of loot growing in the night sky.
"Just this one house, then I'll be done!
Just in time before the rise of the sun!"

He landed down in the rough, rocky sands,
And unfurled his sack with his sly hands.
But just as he started to stuff away the plug-capture mark,
Came a small a small Metalface, normally unseen in the dark.

"Why mister, oh why?" asked the tired robot.
"Why do you swap all the upgrades I've bought?!"
"I just had a hard game, heck yes, I have.
Now explain yourself, you white-plated lad!"

"Why, my dear comrade." The sly Librus lied.
"I'm just swapping them for something more than an upgrade you can buy!
A gun, powerful! A new weapon, with which you shall stride!
A new item that you shall be able to fire with pride!"

"I've just got a quite a lot of old junk in my bike!
And I've just realized it's the middle of the night.
Even merchants have to rest sometime.
So I'll be right back. Next morning! Next time."

And with that lie, planted in that bot's head,
Librus shook his hand, and sent him to bed.
And with his sack full of his ill-gotten gains,
He made it off, quickly,
To the trapper plains!

Librus heaved and hauled his massive loot sack,
Until it teetered on the edge of the map.
"Oh, to DESTROY IT ALL! It's so OP!
I'll look back one last time, see how they curse me!"

But instead of foul cursing filling the air,
Or instead of tragic cries of despair,
The sound of laughing, play and joy!
Despite knowing all their loot was destroyed!

"W-what's this! They're not raging at all!
There's team games! 1v1, heck, I even see a free-for-all!
They even cry 'GG'! How can this be?!
They play without weapons, upgrades and, most of all, me!"

And with that... he realized. It wasn't about winning!
It's about having fun! Good times! Grinning!
And in the community it's thought, in the community they say...
Librus's cold metal heart regained size that day.

"These items... I must return them!
For my sin I must condemn!"
And so Librus quickly did speed,
To return all the items! Hooray! Yippee!

The crowd cheered! Woot! Woohoo!
Items abound! Score multiplier x2!
It was a good day, and in the end...
Librus found many true Cobalt friends.
Well, how about that. Touching! True friendship and good times is what it's really all about, right?
Now, I have to take my leave! The guys doing Intel Reports don't know I'm supposed to be here, not being the… best at retrieving information. Not saying you wonderful chaps may see me in the future!
Toodle-oo, and happy holidays!