October 11th, 2012,
Cobalt
,
Musings
,
thewreck
Hi! In this post I will be musing on the following topics:
Metalface hull types and equipment
Map competition
Adventure art
Hit the jump for the full read!
Metalface hull types and equipment

For the purpose of the adventure, we have been working on character development and customization. From left to right, the bare metalface, the "Explorer" hull and the "Scouter" hull. Each hull has different stats and will affect how your metalface performs in all areas.
As you can see on the following image, these hulls are not all in one piece:

In the Adventure the different hulls will not be straight up balanced, but rather offer both variation and progress. For the versus modes, the plan it to allow maps to enable "profile hull customization" (on by default?), which will allow players to spawn as the hull-design of their choice. To make sure things are balanced, these "versus" hulls will use a different stats that should be balanced. Any thoughts on this?
Metalfaces are divided into head, torso, hands and feet. On top of that, you also have an equipment slot for each as well as a brain equipment slot. You can change your equipment and hull in special booths that will look like this: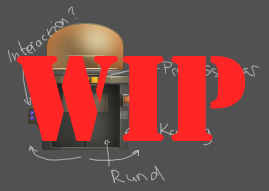 But since the graphics are not implemented in the game yet, it just looks like a regular shop now, but you can see how the equipment booth gui looks like here: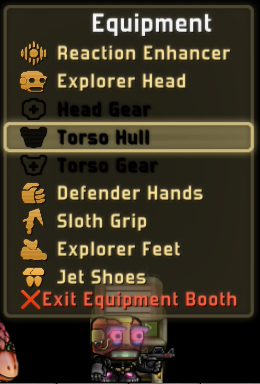 The sloth grip is now an equipment item and you can also unequip your reaction enhancer. Without sloth grip hands you can still jump up against walls, but you will slide down as soon as you stop jumping.  Without reaction enhancer, you will no longer generate bullet time around you when threatened. Jet Shoes should probably be renamed to Jet Boosters? Also, sloth grip still doesn't have a sprite visible on the character, but that is coming.
We have also tidied up the upgrade bench as you can see in this image: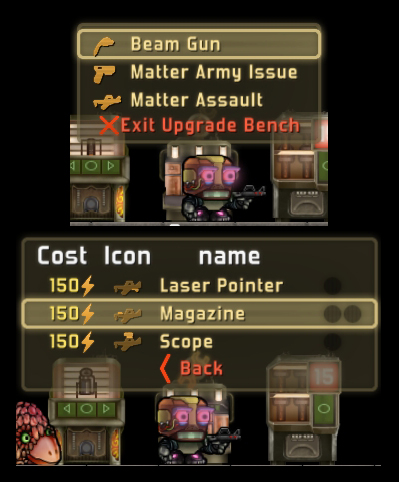 As you can imagine, this was a sorely needed aspect of the game especially for the purpose of the Adventure. Prior to this we were having great trouble cramming more and more "fun stuff" into the game. This gives us the framework for how to add character development and also gives us a great platform for how to vary other characters. With this system in place, it will be much easier to add variations and difficulty to enemies without going crazy with production time.
Thoughts & comments?
Map competition
There was a map competition held on the forums that came to a close just a week back, and now they are gradually releasing information on the winners! Read all about the 5th and 4th place winners here.
The first price will be to have the map included in the official alpha version of the game! I personally have no idea who will win or even what the contributions are, so I'm really excited every time they announce an new runner up!
Update: 3rd place winner!
Adventure art
I've been looking over kinten's shoulder for the past couple of days, and wow! Things are happening on the art front. As some of you know, we had the lovely Erik help us out a while back with concept art, and Kinten has been working hard to implement, redraw, cut out, and produce some of the scenes and concepts. I'm not sure what he wants to show or how he wanted to show it, so I will let him decide that himself on a later date.
Until next time!
/thewreck